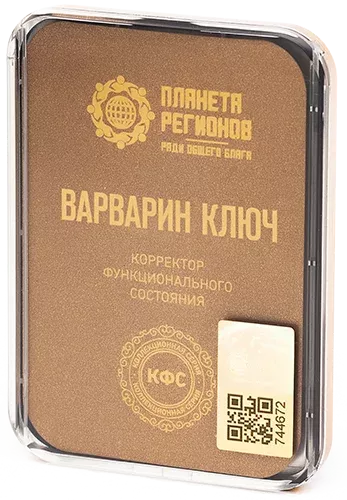 Corrector "Varvarin Key". Collection series Planet of Regions
Are available
---
The new collection FSC "Varvarin Key" contributes to the prevention and correction of various inflammatory, bacterial and fungal diseases
---
Convenient payment methods
Fast dispatch of orders
Manufacturer's Warranty
---
Producer: LLC "Planet of Regions". "Collector" series
FSC "VARVARIAN KEY" contributes to the prevention and correction of various inflammatory, bacterial and fungal diseases.
FSC Koltsov's plate "VARVARIAN KEY":
It has a general anti-inflammatory and antibacterial effect, contributes to the prevention and correction of various inflammatory diseases of the reproductive system in women and men
It has a pronounced anti-inflammatory effect on the mucous membrane of the oral cavity and gums (gingivitis, stomatitis, periodontal disease), with inflammatory skin diseases (including furunculosis, carbuncle)
Helps to strengthen and maintain immunity, faster recovery from acute respiratory infections or acute respiratory viral infections, incl. when the first symptoms of diseases appear
Promotes the absorption of the trace element magnesium (Mg), which ensures the physiological course of various vital processes in the body (especially in the nervous, cardiovascular, bone and digestive systems)
Promotes the restoration of phosphorus and carbohydrate metabolism
Promotes the restoration of enzymatic reactions (in the gastrointestinal tract, liver, gallbladder)
Promotes the regulation of regeneration processes and cell renewal of tissues and organs, assimilation of vitamins and minerals
It contributes to the correction and prevention of various diseases of the upper respiratory tract, liquefaction and removal of sputum from the lungs
Promotes healing in case of dysfunctions of brain structures (hypothalamus, pituitary gland, epiphysis), restoration of the endocrine system
Helps to eliminate the "dry eye" syndrome, relieves spasms of blood vessels caused by prolonged work at the computer, has a positive effect on the vitreous body of the eye, is effective in cataracts
Helps to alleviate the condition of the body with vegetative-vascular dystonia, restores the elasticity of blood vessels, promotes blood thinning and prevents thrombosis
Contributes to the correction and prevention of fungal diseases of nails, skin, incl. with seborrhea of ​​the scalp, promotes faster recovery of the nail plate, has a pronounced antifungal effect
The polarization of water from the Varvarin Klyuch spring is registered at the FSC "Varvarin Klyuch". This famous spring is located near the city of Pereslavl-Zalessky, Yaroslavl region..Varvarin Klyuch, along with Alexandrova Gora, Sin-kamen and Pleshcheev Lake, is part of a single cult complex dedicated to the ancient Slavic god Yarila. The Varvarin Key is considered a sacred place, therefore it is necessary to approach the work with FSC only with pure thoughts and desires.
FSC "VARVARIAN KEY" is shown:
For people suffering from long-term protracted diseases of various etiologies or who are often ill
As a means of prevention and protection during seasonal epidemics
To restore and regulate metabolic processes in the body
For faster rehabilitation after various surgeries
In the presence of fungal infections as an additional means of correction and therapy
To keep pets healthy
.
The time of water structuring at FSC is at least 2 hours.
Recommendations for the use of FSC "VARVARIAN KEY":
In the presence of fungal infections, long-term combined use of FSC "Varvarin Key", No. 1 and 2 is recommended; structure products for external use
In diseases of the mucous membranes of the oral cavity and gums, the complex use of FSC "VARVARIAN KEY" with FSC "HEALTHY TEETH" and "OXYchlorophyll" oral elixir
For eye diseases, it is recommended to structure eye drops and ointments
Varvarin key spring is considered a sacred place, therefore it is necessary to approach the work with FSC only with pure thoughts and desires