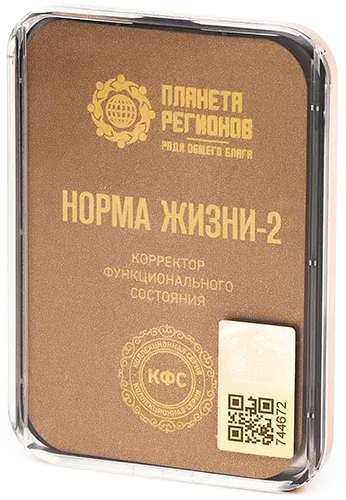 Proofreader "Norm of Life-2". Collection series "Planet of Regions"
Are available
---
FSC "NORMAL LIFE-2" contributes to an increase in blood pressure (BP) in hypotension
---
Convenient payment methods
Fast dispatch of orders
Manufacturer's Warranty
---
Producer: LLC "Planet of Regions". "Collector" series
A channel of Cosmic Theurgy "MAYA" - TAKOR in the mode of increasing blood pressure is registered at the FSC "NORMAL LIFE-2".
FSC plate Koltsov "NORMAL LIFE-2":
Helps increase blood pressure (BP) in hypotension
It contributes to the normalization of hormonal levels, affects the maintenance of vascular tone and the strength of heart contractions
It helps to regulate the release of adrenaline, reduce nervous and mental overstrain
Helps to eliminate chronic fatigue syndrome, depression, has a preventive anti-stress effect
Helps restore energy balance, reduce emotional lability (instability)
Contributes to the normalization and regulation of the production and absorption of essential vitamins and nutrients in the body, which leads to an increase in vital resources
It helps to stimulate the production of antibodies, thereby helping to prevent viral diseases and maintain immunity
FSC "NORMA LIFE-2" is shown:
People diagnosed with hypotension
For irregular pressure drops in the downward direction
With vegetative-vascular dystonia, a feeling of loss of strength
In case of increased physical and mental stress, stressful conditions
The time of water structuring at the FSC "NORMAL LIFE-2" is at least 5 minutes.
Recommendations for the use of the FSC "NORMAL LIFE-2":
To increase blood pressure, you need to drink a glass of structured water
Next, apply the FSC to the inside of the wrist, fix it for 10-15 minutes
Effectively combined with FSC "LONGEVITY", "JADE", "POWERFUL WATER", "WINNER", "PHOENIX"