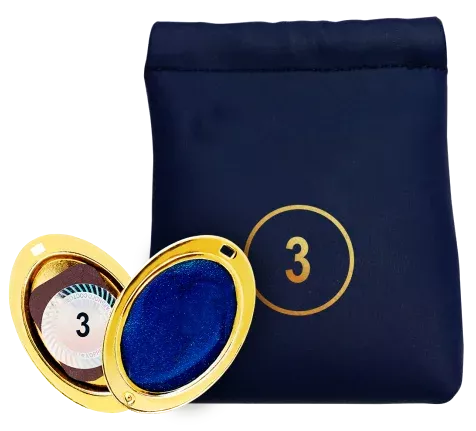 FSC pendant No. 3 "Elm" from 12.01 to 24.01; from 15.07 to 25.07
Not available
---
It is recommended to choose "Pendants" by the date of your birth in accordance with the horoscope of the druids: No. 3 VYAZ 12.01 - 24.01; 15.07-25.07. Druids attribute to people born under the sign of Elm, observation, organizational skills, realism and balance in decision-making..
---
Convenient payment methods
Fast dispatch of orders
Manufacturer's Warranty
---
Producer: LLC "Planet of Regions". FSC "Pendant according to the horoscope of the Druids"
July 15 - 25 - Summer Elm gives the impression of a defenseless creature, immersed in dreams and illusions, anticipating the future, but getting lost in the present. Often he walks in the areola of a creative personality. However, secretly, he most of all wants to sort out all the phenomena of life on the shelves, stick his own label to each and thereby put things in order once and for all, so that everything is clear, simple and logical.
January 12 - 24 - Winter Elm is deadly logical, consistent like a robot and extremely stingy in expressing feelings. True, deep down he is convinced that any logic is flawed, and any words are empty, and is ready to believe in a miracle.
Big, slender, handsome. Very attractive to others, but has something restraining in itself. Not too much, however, takes care of himself, dresses with some simplicity, often cannot part with his old favorite sweater. Elm is not pretentious and does not like to complicate his life. It is characterized by calmness and balance. The most notable drawback is slowness. The tendency to moralize is the most obnoxious trait.
Contrary to appearances, he is in poor health. Straightforward and open, disarming with generosity. Believes in human kindness. The cause he defends is always noble, and he believes that sooner or later he will achieve recognition. Stronger than others, experiencing failure. He knows how to do a lot for the benefit of his and his loved ones, has a developed sense of responsibility, duty.
In feelings he is passionate, maybe even ardent. If his choice is successful, he will be able to create conditions for love in his house to survive the diamond wedding.
He likes to lead and, to a much lesser extent, to obey. Influences others and often uses his influence. Skilled in managing people. His demands are as great as the love he gives himself. Be patient with him, he's worth it. Can be very loyal. Has common sense and skillful hands. He has a lively mind, concrete and practical. He has a sense of humor and often this sense saves him in moments of disappointment.
His life will be pleasant and without any upheavals; the way he wants.
Traits of those born under the sign of ELM: observation, organizational skills, realism.
A person born under the sign of Elm is distinguished by preaching, moralizing, pedagogy, attempts to implement the ideal through official structures and accepted methods. Calm, well controlled. However, he is demanding of himself and always notices the mistakes and shortcomings of others, is straightforward; his sincerity is disarming when he points them out.
His method: to see the incompleteness of the system of qualities and consciously supplement it to harmony..He believes in the potential goodness of people and therefore does not cease to be annoyed at their imperfection. In this sign, ethics and pedagogy enter into active cooperation; not too rough, but persistently educate souls. The principles that Elm preaches are always honest, he believes that sooner or later they will be recognized and put into practice, and therefore he is more disappointed than others.
His demands are as great as his love for people, and you can forgive him for some despotism of dragging him into heaven by the ears. By nature, Elm is noble, ready for self-sacrifice, constantly eager to fulfill the duty of ennobling people. Equally serious about family responsibilities, attentive, faithful in marriage. Consistent in actions. He inspires confidence, in professional work he is respected and recognized.
Sometimes he is somewhat intrusive, likes to influence, read morals, considers himself wise, does not like to listen to others so much. The mind is alive, yet directed, practical, concrete. He plans, arranges life very reasonably, a realist. Life usually proceeds very smoothly, without much upheaval, except perhaps with regular disappointments in not very full-fledged people. Often in his life, impasses arise because he always hopes to break the already established structures, and besides, by accepted methods, while many others quickly despair and simply create new ones.
.
Attach Koltsov's FSC pendant to your chest or stomach.

Close your eyes and mentally open up to the tree corresponding to your sign (pendant)

Imagine how its energy penetrates you and spreads throughout your body.

When dealing with a tree, the emotional component is important, it must be approached with an open heart.

Merge with the tree as one, imagine that you are it, and it is you, and stand without thinking about anything and without worrying about anything until you feel that you are energized.

A sign of a quality session is various shades of tenderness and gratitude to the tree.