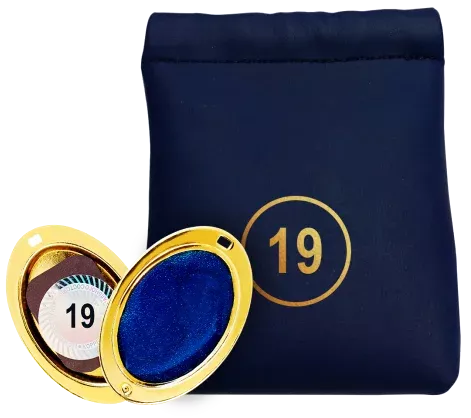 FSC Pendant No. 19 "Oak" 21.3 - Day of the spring equinox
Not available
---
It is recommended to choose "Pendants" by the date of your birth in accordance with the horoscope of the druids: No. 19 OAK 21.03 - Day of the spring equinox. Decisive, has a practical mind and organizational skills..
---
Convenient payment methods
Fast dispatch of orders
Manufacturer's Warranty
---
Producer: LLC "Planet of Regions". FSC "Pendant according to the horoscope of the Druids"
The principle of the oak is activity. He constantly acts, carries himself to the world, giving energy and acceleration to everything around.
Full of life, strength and beauty, with nothing fragile in it. The movements are majestic and full of virtues, they awaken respect in people with their solid appearance. He is absolutely healthy, which is very important in his case, as he does not tolerate weakness and disease, and the sight of blood can lead him to faint.
Very courageous, but his courage comes not so much from his spiritual qualities, but from excessive pride. He does not want to be considered a coward and, warning of acute circumstances, reacts sharper than required. Self-possessed and strong-willed, he does not have the habit of deviating from a previously made decision and, as a rule, always achieves his goal. But his intransigence also has bad sides: OAK is not able to be flexible and his intransigence gives him trouble. I would achieve a lot if I could be a diplomat at least a little.
He himself is more than independent. Does not tolerate any restrictions and its
actions often border on arbitrariness. However, he respects the opinion and independence of others. Friendly and hospitable, faithful in friendship, but not always so in love. It is a fickle creature, a victim of regular hobbies, confident that "now it's forever." In marriage, it can settle down over time.
Standing firmly on his feet, as if rooted into his surroundings, he continues and develops the current situations. Does not strive for change and accepts changes caused by the actions of others with discontent. He is a conservative. Despite the fact that time is capable of selfless deeds, he always remembers his own benefit and focuses all his attention on personal problems. A stranger is not interested in his life.
Absorb his concrete deeds, thinks clearly and in a businesslike manner, is a man of action, not devoid of intuition. Refers to the number of people who, regardless of the circumstances, always remain in their own interests. Usually he provides his loved ones with a life in full prosperity.
Features of those born under the sign of OAK: decisiveness, accuracy in actions, practical mind, realism, observation, organizational skills.
People born under the sign of D. are distinguished by balance, power, vitality, courage, pride, independence, nobility. This is the very beginning of the Zodiac, and therefore the time for big undertakings is here. Strength is not only mental and physical, but also moral.
In any case, he behaves steadfastly and heroically. Even a woman born under this sign does not need protection and is often a stronger partner herself. Due to the high tone of vital energy, health is excellent, it does not tolerate doctors, medicines, ailments, whimpering..His courage is often combined with a sense of apprehension, but it stems from pride.
In a relationship, he is self-centered, independent, does not tolerate pressure and restrictions. Unshakably balanced among worldly storms. This great balance is not the dead rest of dullness, but a balanced synthesis of many currents of higher voltage, ready for any kind of action, for any surprise, without the fuss of a being not sure of its usefulness.
Strongly uncompromising, which not everyone likes. At the same time, he is liberal, respects the freedom and views of others. Friendly, hospitable. In love, even at first sight, he is inclined to believe that he met love for life. With age, he treats marriage rationally, avoids change. The same is true in business: he starts as an unbreakable innovator, but after being satisfied with what has been achieved, he can become stagnant, directing his energy to maintain stability. Thinks clearly, realistically, concretely. Stands firmly on the ground.
At work - a man of action, not devoid of intuition. D. is a noble tree, under whose branches one can always find protection. This is the tree of justice, the patriarch of the forests, the symbol of forest protection.
.
Attach Koltsov's FSC pendant to your chest or stomach.

Close your eyes and mentally open up to the tree corresponding to your sign (pendant)

Imagine how its energy penetrates you and spreads throughout your body.

When dealing with a tree, the emotional component is important, it must be approached with an open heart.

Merge with the tree as one, imagine that you are it, and it is you, and stand without thinking about anything and without worrying about anything until you feel that you are energized.

A sign of a quality session is various shades of tenderness and gratitude to the tree.