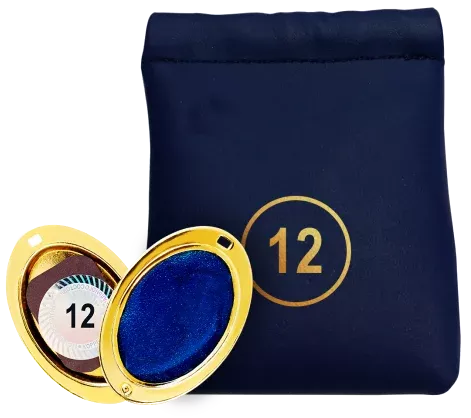 FSC Pendant No. 12 "Maple" from 11.04 to 20.04; from 14.10 to 23.10
Not available
---
It is recommended to choose "Pendants" by the date of your birth in accordance with the horoscope of the druids: No. 12 MAPLE 11.04 - 20.04; 14.10 - 23.10. People born under the sign of Maple have a lively character, a sense of humor, an analytical mindset and a great ability to deduce..
---
Convenient payment methods
Fast dispatch of orders
Manufacturer's Warranty
---
Producer: LLC "Planet of Regions". FSC "Pendant according to the horoscope of the Druids"
October 14 - 24 - Summer Maple is compliant and diplomatic, never imposes his point of view and always finds means to come to an agreement with the interlocutor. He is considered an excellent partner and collaborator. But deep down he is arrogant, self-confident and considers himself the height of perfection.
April 11 - 20 - Winter Maple - nature of rare latitude. He disposes of the things that come to hand as if they were his own, he considers those around him to be his henchmen, and the ideas and thoughts he likes are his own. However, in his heart, he needs approval, consent, or independent judgment more than anything.
Neat, well-groomed, sometimes even a little flirtatious. Often happens where it is most interesting. Follows fashion. Does not belong to the number of ordinary personalities. Full of energy and cheerfulness, tireless. MAPLE, as they say, is always on top of the situation. He can be classified as an individualist. Although by nature MAPLE is restrained and timid, he can make the most risky decisions, which are based not so much on a material factor as on a vital interest. He does not like to stay at home, willingly learns new people. Has a gift to call people to, frankness. But you should not be afraid if you told him something - he never condemns other people's actions and does not talk about other people's secrets.
Usually full of plans, often unusual, extravagant. He loves all kinds of novelties, enthusiastically defends new ideas, but he rarely implements his own projects. This, however, does not prevent him from getting satisfaction from his broad horizons. There is also a drop of cynicism in it. He does not like and is not afraid of public opinion. On the contrary, he likes to be talked about.
In love, he is complicated. Goes amazing and unforeseen roads. But this does not mean that he will not be able to find happiness if he meets a partner with a similar mindset and taste. The mind is clear and perceptive. Despite the fact that it is full of problems, it is not devoid of either imagination or intuition. In a word, the character is multilateral.
Features born under the sign of MAPLE: lively character, sense of humor, ability to deduce, analytical mindset.
For a person born under the sign of Maple, a break with the past, a passion for being original, a curiosity for novelties, new people, building castles in the air are characteristic. Maple is a sign where old boring connections are easily broken, forbidden seals are removed, doors open, new paths begin, where the call of novelty triumphs, where laughter conquers fear.
Maple Man is original, stands out from the crowd. He really wants to be liked. Likes to be talked about, sensitive to praise, proud. Such a person has a lively character, a rich imagination, a sense of humor, he is full of energy and cheerfulness..Although he is not so brave, he is able to make a daring decision, not so much out of material considerations, but out of curiosity.
He always has a lot of ideas, often extravagant ones. He loves all kinds of novelties, enthusiastically stands up for the best, but rarely implements his own projects. However, this does not prevent him from getting satisfaction from the breadth of his views. Always wants to feel independent in decisions. When trying to impose a decision on him, he is inclined to act in the opposite direction, even to the detriment of the cause. Generally accepted tends to be considered false by definition. She loves to be away from home and meet new people. Without making any effort, he knows how to call for frankness.
He is not afraid to confess, because he does not have the habit of condemning the actions, past mistakes of others. Always ready to help others in emancipation. In love, he is complex, walks in unpredictable ways. He has a good intellect, ease of learning, good memory and imagination. With his intellect, he builds castles in the air quite well, this is his calling. But he often forgets and claims the practicality of his grandiose projects and his ability to realize them, which is no longer necessarily true.
Unfounded claims lead to self-deception and an inferiority complex, nervousness. That's the other side of his originality. He can get out of the complexes only by playing the role to the end, not leaving an easy attitude to his activities, a sense of humor. With seriousness, fear returns, and the game goes down the drain. A brilliant jester, a clown, is not afraid of criticism and thus defeats the satanism of the old outgoing world.
.
Attach Koltsov's FSC pendant to your chest or stomach.

Close your eyes and mentally open up to the tree corresponding to your sign (pendant)

Imagine how its energy penetrates you and spreads throughout your body.

When dealing with a tree, the emotional component is important, it must be approached with an open heart.

Merge with the tree as one, imagine that you are it, and it is you, and stand without thinking about anything and without worrying about anything until you feel that you are energized.

A sign of a quality session is various shades of tenderness and gratitude to the tree.