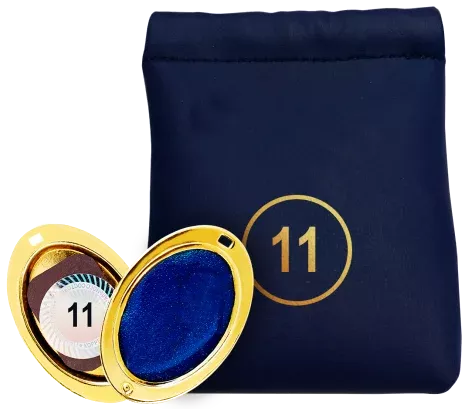 FSC Pendant No. 11 "Rowan" from 01.04 to 10.04; from 04.10 to 13.10
Not available
---
It is recommended to choose "Pendants" by the date of your birth in accordance with the horoscope of the druids: No. 11 ROWAN 01.04 - 10.04; 04.10 - 13.10. Astrologers endow her with intelligence, fantasy, combined with great intuition..
---
Convenient payment methods
Fast dispatch of orders
Manufacturer's Warranty
---
Producer: LLC "Planet of Regions". FSC "Pendant according to the horoscope of the Druids"
October 5 - 13 - Summer Rowan is capricious, changeable and contradictory. Rarely expresses his own opinion, but often rejects others. Alone, he languishes from longing, in any society he defends his independence. Nevertheless, she feels like a leader and dreams of rallying those around her around her deeds and ideas.
April 1 - 10 - Winter Rowan - leader and ringleader. Wherever and whatever is started, she seizes the initiative and makes everyone "dance to her tune." However, deep down, she is most worried about what impression she will make in society. She strives to surprise others with something, but what and why is not so important.
Behind the fragile appearance lies a strong nature. She is sweet and charming, and by her light gait you can judge and recognize her from afar. The smile almost never leaves her face, not so much because of the internal cheerfulness, but thanks to self-control. He knows how to emphasize his own dignity, likes to dress well. It has good taste.
Quickly adapts to changes in environment. He loves to bring joy to his neighbors, even to the detriment of himself. Not selfish, but somewhat self-centered. Independent, but sometimes allows you to put yourself in a dependent position. Strives, however, to live an independent life. A great sense of responsibility makes her feel guilty for everything that happens (guilt complex). Contacts with her are difficult, and relationships are complex. It lacks simplicity.
She is distinguished by sensitivity to external influences, love of beauty, loyalty and friendliness. You can always rely on her. Sometimes she is naive and allows herself to be exploited. In love, he gives a lot, but he also demands a lot. Constantly testing the feeling. You can't deceive her, you can't disappoint her, she won't forgive.
ROWAN will not sell. Her personal life is very rich. Full of worries about tomorrow. Prudent, which often suggests a marital relationship with her. Very smart and often very effective. It happens that some of his plans are not implemented, mired in everyday affairs.
Features of those born under the sign of ROWAN: sensitivity of the mind, fantasy, propensity for synthesis, intuition, imagination.
The ruler of this sign is Uranus. People born under the sign of Rowan have the gift of foresight and clear humanistic principles. However, they are closed, and their prophecies do not always reach the rest of humanity.
Underneath their cold manner lies a certain passion that they need in order to prove their case to fanatics and ignoramuses.
People of Rowan, born in the first half of the lunar month, are impatient, and many disappointments await them on the way to asserting their "great rightness"..Although in private life these people can be quite reserved, their insatiable thirst for reform will help to start great social transformations.
People born in the second half of the lunar month are less reserved, but tend to promise more than they can actually deliver. At the same time, they cannot be deprived of their ability to inspire, powerfully influence other people and be indifferent to any attempts to infringe on individual rights.
For a person born under the sign of Rowan, dispersion into many small things, acceptance of other people's concerns, sociability, constant testing of the strength of feelings, and aesthetics are characteristic. Very great attention to the environment: space, people.
Rowan is calm, charming, sociable, devoid of selfishness, strives to be approached with various matters and problems. He loves to bring joy to people, even sacrificing himself. All things are important for her, she feels responsible for everything, sprays, fusses.
Rabina is suitable for activities related to turnover, especially public ones. She is kind and honest and you can rely on her. Sometimes she is even naive and allows herself to be exploited, until she notices violence. Gives a lot of love, but also requires reciprocity, constantly tests feelings. If you disappoint her, you won't forgive. It is she who breaks marital ties.
In love, friendship, life in general loves movement, restlessness, complexity, impulsive, unforeseen. Easily adapts to change, successfully resists the vicissitudes of fate. She always seems serene, although she can hardly endure her own and other people's problems. Light gait flies through life, smiling, relaxed. Rowan is a favorite, the soul of the company.
She has good taste, she dresses well, she knows how to emphasize her dignity. Impressive, has artistic inclinations, often her work is associated with art, especially fine art. The abilities are varied and good, but big ideas are usually not realized due to dispersion into small things. The mountain ash is full of worries about the future, prudent, economic, they often think about it in a marital plan.
.
Attach Koltsov's FSC pendant to your chest or stomach.

Close your eyes and mentally open up to the tree corresponding to your sign (pendant)

Imagine how its energy penetrates you and spreads throughout your body.

When dealing with a tree, the emotional component is important, it must be approached with an open heart.

Merge with the tree as one, imagine that you are it, and it is you, and stand without thinking about anything and without worrying about anything until you feel that you are energized.

A sign of a quality session is various shades of tenderness and gratitude to the tree.