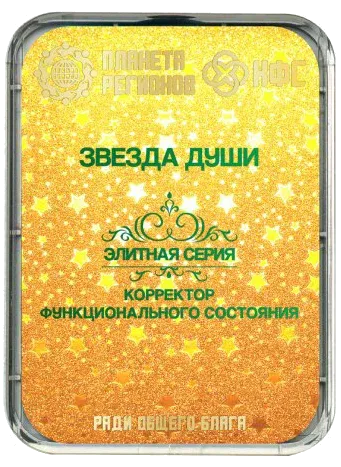 Proofreader Koltsov "Star of the Soul". Elite series "Planet of Regions"
Are available
---
FSC "Star of the Soul" awakens the spiritual and adds physical strength, helps in learning, gaining knowledge, "unload" from an excess of unnecessary information
---
Convenient payment methods
Fast dispatch of orders
Manufacturer's Warranty
---
Producer: LLC "Planet of Regions". "Elite" series
At the FSC, the polarization of water is registered on 08/12/2022 - the day of gaining strength. According to the folk calendar, this is the day of John the Warrior, Siluyan, Silin day.
Water structuring time - 15 minutes.
It awakens spiritual and physical forces in a person, makes it possible to confidently declare oneself, one's potential in society (work, relationships, etc.), to show the best human qualities
In a constant mode, it protects the user's energy from social vampirism, restores the integrity of the biofield, forms a strong energy cocoon, and the more often you use the Corrector, the larger the diameter and the higher the power of sealing protection
Adds yang strength and energy to men, giving them the opportunity to collect "strong strength", affects potency
It activates the "power of harmony" in women, the spiritual beginning of the family, helps to tune in and enter a state of deep inner calm, goodness, warmth, removes nervousness, fussiness, loudness from the "anchor", so that harmony and peace reign in the family
Adjusts to connect with the information field of the Earth ("Universal Akashic Chronicles"), Higher teachers, helps to obtain the necessary knowledge
Awakens the Higher Self, Higher Consciousness, helps to easily tune in and enter a safe flow to receive the information the user needs (channeling)
Fills with a state of endless eternal inviolability of Life, the Universe, helps to even out the emotional background, "unload" from an excess of unnecessary information
Contributes to the removal from a person of negative introduced energies, the burden of unnecessary responsibility
Contributes to good undertakings in business and difficult work, helps to relieve excessive tension and nervousness
Helps in learning, gaining knowledge, incl. about new techniques, methods, methods of research
Helps to manifest talents, wisdom in full force
Promotes well-being on the go, when moving and changing jobs
It helps to improve the functioning of the large intestine, regulate lymph flow, and relieve spasms
Helps to improve venous circulation in case of congestion in the lower extremities, inguinal region (varicose veins, hemorrhoids)
Contributes to the recovery of the body of a woman after childbirth on the physical and emotional levels, helps to reduce the manifestations of postpartum depression
Increases the power potential of animals and plants through the energies of the Earth
Creates a unique tandem with the FSC "GATE OF INFINITY" to reach a new level of personal development, to find one's destiny, to integrate into the evolutionary processes of energies of a higher order and adapt to them more quickly
Best to use in the afternoon, especially when tired
Recommended for women in the postpartum period, for all women in the food preparation area
Recommended for heavy physical work (loaders, farmers, etc.), high loads, active movement on the legs (waiters, postmen, couriers, etc.), sports (especially power sports), sitting put life and work on a chair or chair (drivers, office workers, beauticians, schoolchildren and students)
Works in tandem with FSC "MAXIMUS" to enhance male sexual function
Women are encouraged to work together with FSC "POWER LADA", "BEREGINIA"
To remove the negative introduced energies, it is necessary to soak an aspen broom for 5 minutes in water structured on FSC and use it in a bath for soaring, and also attach it to a shower head
For transformational meditations, channeling, for healing the Soul and the physical body, revealing one's potential, you can write specific requests, programs
Through FSC you can address St. John (a warrior of the 4th century):
for intercession from enemies and foes
to help the grieving, offended and innocently convicted
about the return of stolen goods
finding the missing, release from captivity