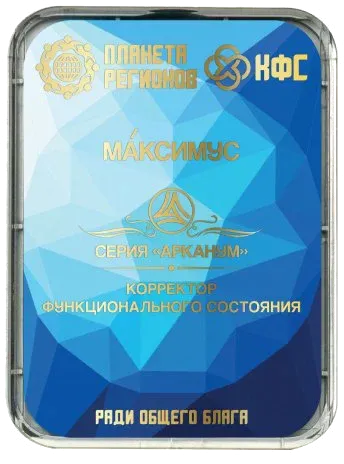 Proofreader Koltsov "Maximus". Arcanum series
Are available
---
FSC "Maximus" is aimed at increasing sexuality and endurance, restoring men's health
---
Convenient payment methods
Fast dispatch of orders
Manufacturer's Warranty
---
Producer: LLC "Planet of Regions". Series "Arcanum"
MAXIMUS (lat.) - the greatest.
FSC prescribed the polarization of 4 effective Ayurvedic and medicinal products, potency stimulants of natural origin, including marine life concentrates (trepang, shark), cucumarin, herbs (ginseng, saffron, fadogia, cloves, pepper, calamus, nutmeg, leptadenia , eurycoma, bryonia, red root, etc.), L-arginine, glycine.
Water structuring time - 20 minutes.
Helps to start the processes of restoration and rejuvenation of the male body, normalize the physiological functions of the male genitourinary system, i.e. generally improves the health of male sexual function
It helps to restore and normalize the blood supply to the pelvic organs, remove congestive processes, strengthen potency
It contributes to the manifestation of an anti-inflammatory and antibacterial effect in diseases of the pelvic organs (acute and chronic prostatitis, a wide range of disorders of the genitourinary system, etc.), therefore it can be used both for the prevention and correction of ailments, incl. in combination therapy with drugs
Aimed at stimulating the production of all necessary hormones by the body, incl. testosterone, to increase its concentration
Helps to form natural arousal, the possibility of prolonging sexual contact without weakness, exhaustion, increased sensations during all phases of sexual intimacy
Helps reduce fatigue, increases endurance, is effective for chronic fatigue, stress, especially hormonal imbalance
Aimed at increasing the quantity and improving the quality of sperm, increasing sperm motility
Works to restore men's faith in themselves and their strengths, to get the bright colors of life, incl. after failures and psychologically traumatic situations in the past
It is safe for the cardiovascular system, because. does not cause an increase in blood pressure and does not increase the number of heartbeats (pulse), therefore there is no upper age limit for the use of this FSC
Be sure to use when sedentary: for example, put the plate on the seat of an office chair or car
Drink pure water, structured on FSC, according to WHO recommendations: 30 ml per 1 kg of body weight per day. Be sure to increase your water intake in hot climates
Perform pumping to prevent sexual dysfunction and diseases - in the evening put on a chair (armchair, sofa) and sit for 15-20 minutes
In the presence of diseases, use in complex therapy with drugs and other FSCs: do massive pumping 2-3 times a day, wear it on the projection of the 2nd energy center (chakra) in 2 projections (in front and from the back), structure suppositories and liquid forms ("OXYchlorophyll", other prescribed drugs)
When the connective tissue of the prostate gland (adenoma) grows, the therapy must be supplemented with "OXYchlorophyll", "Resveratrol FORTE" and other FSCs
If there are psychological traumas, blocks and problems related to the topic of sex and violations of male sexual function, it is necessary to supplement the correction of the state with other FSCs
It is very important to get rid of bad habits (smoking, alcohol, etc.) to increase the effectiveness of the FSC
Fill the intimate sphere of life with aromatherapy (aroma lamps, pendants, diffusers, massage) using the following essential oils: calamus, basil, bay, bergamot, carnation, jasmine, ylang-ylang, ginger, cardamom, cedar, cypress, cinnamon, nutmeg walnut, neroli, patchouli, petitgrain, rose, rosemary, sandalwood, pine, citronella, thyme, black pepper, eucalyptus. Structure the oils on this FSC. Read the instructions for the use of essential oils in the product leaflet