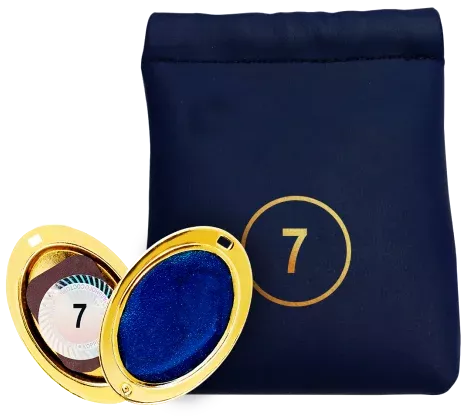 FSC Pendant No. 7 "Pine" from 19.02 to 29.02; from 24.08 to 02.09
Not available
---
It is recommended to choose "Pendants" by the date of your birth in accordance with the horoscope of the druids: No. 7 PINE (NORTH CEDAR) 19.02 - 28-29.02; 24.08 - 02.09. The Druids endowed the Pine sign with great aesthetics, integrity and composure, a penchant for analysis..
---
Convenient payment methods
Fast dispatch of orders
Manufacturer's Warranty
---
Producer: LLC "Planet of Regions". FSC "Pendant according to the horoscope of the Druids"
August 24 - September 2 - Summer Pine is passionless, businesslike and logical. She uses any circumstances to solve her problems, in any dispute she finds an acceptable solution, in any situation - a benefit. However, tenderness and defenselessness are hidden behind this facade: she needs guardianship, attention and moral support.
February 19 - 29 - Winter Pine is closed and mysterious, gives the impression of an idealist and romantic nature, living in dreams and ready to devote herself without a trace to a person who wants to understand and share them. And yet it is not as simple as it seems. Secretly, she notices every little thing and seeks to use it in order to gain the trust of people and achieve her goals.
Refined silhouette, beautiful, decorative. He knows how to emphasize his merits. He loves the house, valuable items, beautiful interior. Often that sweet home, without which she could not develop, creates herself. They say that she knows what she wants, but does not allow herself to be carried by the will of the waves, which is not enough for her that life itself gives. There is nothing submissive in her, she is able to plan and subordinate the conditions to her needs.
Courageous, she meets resistance with her head up and does not allow bad luck to overcome her. Thanks to courage and the ability to take risks, he always goes ahead. In work, she is able to be successful regardless of the type of activity that she chooses. PINE is distinguished by the persistence with which she follows the chosen path and from which it is difficult to knock her down. Knows how to get out of the most difficult situation. Very fast and precise in action.
Despite her affability and the ability to be a nice friend, there is no excessive complexity and generosity in her. Your own well-being and comfort comes first. The failures of others do not banish sleep from her eyelids, although she does occasionally mention them sympathetically in friendly conversations. Only in one shows weakness - in love. Sensual and impulsive - easily carried away, and then it's too late.
With all this, he has a penetrating mind and orderly thinking, he can be a good organizer. Knows how to make the necessary efforts to achieve the goals and, as a rule, achieves them. From any, even from love, troubles he knows how to get out with honor. The PINE sign is extremely favorable for women.
Features of those born under the sign of PINE: aesthetic mind, organizational skills, a penchant for analysis.
A person born under this sign is distinguished by femininity, a talent for interior decoration, cool friendliness, flashes of love-interest, for men - a rich imagination, an interest in the occult..
Pine is a tree that grows quickly, requires little, quickly develops new territories, easily adapts, quickly heals its wounds, is light-loving, has a huge variety of species. This sign is very favorable for women. No one will surpass Pine in the ability to tastefully, beautifully, harmoniously form the interior of an apartment, not necessarily with luxury. Equally great is her talent to emphasize her merits by simple means. Pine is somewhat deepened in itself and proud.
Despite her refinement, her seeming weakness, she is firm, does not give in to the flow of life, knows how to deal with difficulties and arranges her life in the way that suits her. There is no passivity in her, she knows how to plan, change conditions at her will, knows the art of maneuver. Bold, always goes forward, not afraid of risk, in any field she will find a place for herself and achieve success. It is difficult to lead her astray, she is not threatened with catastrophic falls, she knows how to extricate herself from any situation, she acts quickly and successfully.
Very easily removed from what she does not like. A good friend and companion. In friendship, however, she is cautious, and in love she is impulsive, burns with a quick and clear flame, is easily carried away, but quickly goes out. Then it is not very convenient to retreat, but she knows how to get out of love failures with honor for herself. It is difficult for her to establish a permanent connection. Friendly, but not overly helpful or generous. Likes philosophical conversations. He finds a distraction from life's failures in work. It's good if work does not interfere with dreaming.
The struggle for a high post is not typical for this person. A good organizer, Pine is shrewd, disciplined, and trustworthy. Her practical life philosophy, her courage, perseverance provide her with excellent results. For men, this sign gives softness, fantasy, a penchant for aesthetics, humanitarian knowledge, fiction, rhythmology, astrology, parapsychological distant interactions, alchemy, experiments in the world of the elements. This sign brings peace. It can be assumed that through this sign, the intellectual, rational hypostasis of the Mother of the World - Sophia is manifested more than others.
.
Attach Koltsov's FSC pendant to your chest or stomach.

Close your eyes and mentally open up to the tree corresponding to your sign (pendant)

Imagine how its energy penetrates you and spreads throughout your body.

When dealing with a tree, the emotional component is important, it must be approached with an open heart.

Merge with the tree as one, imagine that you are it, and it is you, and stand without thinking about anything and without worrying about anything until you feel that you are energized.

A sign of a quality session is various shades of tenderness and gratitude to the tree.