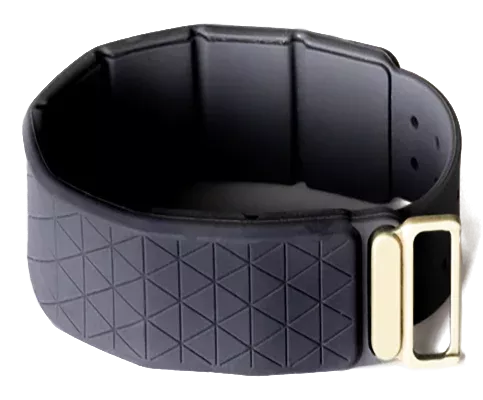 Corrector Koltsov in the form of a bracelet "Amulet"
Are available
---
FSC-bracelet "Amulet" is aimed at activating the processes of rejuvenation of the physical body, healing the ailments of the Soul and their manifestations in the physical body
---
Convenient payment methods
Fast dispatch of orders
Manufacturer's Warranty
---
Producer: LLC "Planet of Regions". FSC-Bracelets
On the FSC-bracelet "AMULET" the polarization of trees/shrubs is registered according to the individual date of birth according to the horoscope of the druids, as well as the general themes of the FSC of the Elite Series - "ENERGIES OF HEALTH", "TREASURE OF SPAIN", "ORLOV POLESIE".
Flexibly and targeted to a specific person according to the date of his birth according to the druid horoscope
It normalizes and dynamizes the energy state of a person, fills it with vitality, protects from negativity
It helps to activate the processes of rejuvenation of the physical body of a person, to heal the ailments of the Soul and their manifestations in the physical body through an increase in the energy level
Promotes the prevention, healing and correction of diseases of a wide spectrum of action of various organ systems: musculoskeletal, cardiovascular, respiratory, excretory, digestive, nervous, circulatory, genital, lymphatic, endocrine, sensory organs, skin
Promotes the preservation and maintenance of immunity, provides adaptability and increased resistance of the body to the influence of external and internal factors, including those leading to the appearance of pathologically altered cells (PAC) of the body
It can be an important part of a comprehensive rehabilitation and recovery program after injuries, operations, past diseases of a different nature: inflammatory, bacterial, viral (including after pneumonia, SARS, COVID-19, etc.)< /li>
It helps to eliminate nervous tension, stress, depression, restore the biological rhythms of the body, normalize sleep
Aimed at preserving and respecting personal boundaries, maintaining harmonious relationships
Builds protection against accidents and disasters, contributes to the elimination of life's obstacles, helps in various life situations to find the best way out
Fills a person with the energy of good luck, luck and opens up life's roads, enhances his best qualities and smooths out shortcomings for a comfortable life in the energies of the new time
UNIQUE TANDEM - FSC BRACELET "AMULET" AND FSC "TALISMAN" - YOUR RELIABLE PROTECTOR, SATELLITE, ASSISTANT, ADVISER, GUARDIAN. AND ALWAYS IS TOGETHER WITH YOU IN ANY LIFE CIRCUMSTANCES, PROTECTING AND PRESERVING IN GOOD SPIRITUAL AND BODY HEALTH..
In total, 22 types of FSC bracelets "AMULET" are produced according to your date of birth according to the druid horoscope.
№1 APPLE TREE 23.12–01.01; 06/25–07/04
Never tall, but well-built, pleasing to the eye, pretty, charming and cordial. Inspires thoughts of love. Druids attribute to her such traits as sentimentality, thoughtfulness, intelligence, combined with an analytical mind and strong logic.
Rubens, Henry VIII, Jean-Jacques Rousseau, George Sand, Vladimir Nemirovich-Danchenko, Carlos Castaneda, Ivan Konev, Elon Musk, Alexei Serebryakov, Mikhail Boyarsky, Leonid Filatov, Georgy Danelia were born under the sign of the Apple Tree.
№2 FIR 02.01–11.01; 05.07–14.07
According to the forest horoscope, it is distinguished by a coldish, strict beauty. He loves the smell of perfume, antique jewelry, subdued lights and majestic festivities. A sense of pride is strongly developed, because of this, it seeks to occupy a separate, independent position in the team. Druids attribute to her extraordinary perseverance in achieving goals, an exceptional mind, conscientiousness and scrupulousness in work, a penchant for analysis and asceticism.
Born under the sign of Fir: Joan of Arc, Alexei Tolstoy, Tamara Sinyavskaya, Sylvester Stallone, Pyotr Kapitsa, Elem Klimov, John Tolkien, Galina Ulanova, Kate Middleton, Zakhar Prilepin, Natalya Bestemyanova.
No. 3 VYAZ 12.01–24.01; 15.07–25.07
In appearance - impressiveness and attractiveness, but there is something restraining in his manner of communication. Unpretentious and does not like to complicate his life. The most noticeable flaws in character are a certain slowness and a tendency to moralize. He has a deep, not for everyone understandable sense of humor. Druids attribute to people born under the sign of Elm, observation, organizational skills, realism and balance in decision-making.
Born under the sign of Elm: Albert Schweitzer, Edgar Poe, Molière, Vasily Lanovoy, Arkady Vainer, Osip Mandelstam, Maxim Dunayevsky, Pavel Globa, Lyubov Kazarnovskaya, Evgeny Yevtushenko, Valery Kharlamov, Svetlana Khorkina.
№4 CYPARIS 25.01–03.02; 26.07–04.08
Slender, strong, with simple regular features. It is not devoid of sophistication, but there is something in it from an untouched by civilization and self-confident villager. Can be content with little and easily adapts to the situation. Does not pursue fame and money, loves walking, animals and hunting or fishing. A good family man, but without sentimentality..As stated in the ancient horoscope, the traits of those born under the sign of Cypress: constancy, loyalty, intelligence, logic, analytical mind.
Born under the sign of Cypress: Franklin Roosevelt, Louis Armstrong, Romain Rolland, Mozart, Mikhail Baryshnikov, Vasily Klyuchevsky, Isaac Dunayevsky, Leonid Gaidai, Ivan Aivazovsky, Irina Viner, Boris Yeltsin.
No. 5 TOPOL 04.02–08.02; 05.08–13.08
In appearance - harmony, beauty and decorativeness. Courage and pride help him overcome many problems that fall in abundance on his life path. He is silent and somewhat secretive, therefore he is almost always mistaken for a person calm, serene and favored by fate. It's easy with him. Druids endow people born under the sign of Poplar with a subtle innate mind, a desire for independence and great intuitiveness.
In the days of Topol were born: Dmitry Mendeleev, Jules Verne, Alfred Hitchcock, Vyacheslav Tikhonov, Sofia Rotaru, Elena Blavatskaya, Alexander Matrosov, Nikolai Dobrolyubov, Alexander Chizhevsky, Irina Muravyova.
№6 KARTAS SOUTHERN (SOUTHERN CEDAR) 09.02–18.02; 14.08–23.08
Sprawling and powerful, if necessary, it will easily spend the night in the open. Self-confident, knows how to make everyone reckon with himself. But he is sensitive to insults and does not always understand jokes. Without hesitation, solves problems and sometimes knows no danger. Druid astrologers attribute to people born under the sign of Kartas indestructible optimism, intelligence and a great ability for deductive thinking.
Galileo Galilei, Bertolt Brecht, Charles Darwin, Boris Pasternak, Ivan Krylov, Georgy Vainer, Muslim Magomayev, Oleg Tabakov, Anna Netrebko, Andrey Konchalovsky were born under the sign of KARTAS SOUTHERN.
№7 PINE (NORTH CEDAR) 19.02–28/29.02; 24.08–02.09
She is beautiful and knows how to emphasize her dignity. Loves home comfort and luxury. Able to get out of difficult situations, fast and accurate in actions. The Druids endowed the Pine sign with great aesthetics, integrity and composure, a penchant for analysis.
Born under the Pine sign: Nicolaus Copernicus, George Washington, Arthur Schopenhauer, Confucius, Oleg Yankovsky, Pyotr Todorovsky, Evgeny Leonov, Valentin Gaft, Alexander Radishchev, Mikhail Zoshchenko, Oleg Mityaev, Natalya Gundareva.
No. 8 IVA 01.03–10.03; 03.09–12.09
Song-melancholy beauty creates an aura of originality and mystery around her. It is full of vague thoughts, unconscious desires, which often cannot be defined by itself..At the same time, often unexpectedly for others, he shows enviable efficiency and determination. Ancient astrologers attributed extreme romanticism and rich imagination combined with artistry to those born under this sign.
In the days of Iva were born: Maurice Chevalier, Bedrich Smetana, Antonio Vivaldi, Elizabeth I Tudor, Konstantin Ushinsky, Mikhail Gorbachev, Yuri Gagarin, Valentina Tereshkova, Alexei Tolstoy, Alexei Kuprin, Irina Rodnina.
No. 9 LINDE 11.03–20.03; 13.09–22.09
Very charming and knows how to use his charm. This contributes to her success in life, but she is never satisfied with what she has achieved. Sometimes jealous, often for no reason, and through life passes with a feeling of boredom. According to the forest horoscope, people of this sign are characterized by a constant thirst for activity, combined with common sense and, as a result, organizational skills.
Born under the sign of Linden: Albert Einstein, Louis XIV, Agatha Christie, Grigory Gorin, Vladimir Vernadsky, Zhores Alferov, Sergei Yursky, Zoya Kosmodemyanskaya, Alexander Rosenbaum, Kirill Lavrov, Alexei Yagudin.
No. 10 HAZEL 22.03–31.03; 24.09–03.10
Often distinguished by an extraordinary mind and gradually revealing charm. Extremely hardy, wise and kind, but can be evil and dangerous for enemies. The Druids endowed the people of the Hazel sign with the ability to witchcraft, attributed to them rich intuition and insight.
In the days of Oreshnik were born: Raphael, Goya, Van Gogh, Prosper Merimee, Graham Greene, Miguel de Cervantes, Marina Tsvetaeva, Larisa Rubalskaya, Pavel Bure, Anatoly Lyapidevsky, Claudia Shulzhenko, Efim Shifrin, Monica Belucci.
No. 11 ROWAN 01.04–10.04; 04.10–13.10
Behind the fragile exterior lies an extremely resilient nature. He has good taste, likes to dress beautifully and knows how to emphasize his own dignity. Relationships with her are usually complicated. She lacks ease of communication. Astrologers endow her with intelligence, fantasy, combined with great intuition.
Nikolai Gogol, Sergei Rachmaninov, Marlon Brando, Hans Christian Andersen, Emile Zola, Alexander Herzen, Giacomo Casanova, Elina Bystritskaya, Mark Zakharov, Marietta Shaginyan were born under the sign of Rowan.
No. 12 KLEN 11.04–20.04; 14.10–23.10
Neat, well-groomed and flirtatious. Follows fashion. There is an element of cynicism in it. People born under the sign of Maple have a lively character, a sense of humor, an analytical mindset and a great ability to deduce..
Born under the sign of Maple: Leonardo da Vinci, Anatole France, Charlie Chaplin, Lucrezia Borgia, Elena Vyalbe, Dmitry Peskov, Maria Sharapova, Svetlana Nemolyaeva, Alla Pugacheva, Leonid Derbenev, Nikita Mikhalkov.
No. 13 NUT 21.04–30.04; 24.10–02.11
Hospitable, polite, refined in manners, but can be contradictory, capricious, aggressive, selfish. Astrologers consider people of the Nut sign to be excellent strategists and tacticians with outstanding organizational skills.
Born under the sign of Nut: Immanuel Kant, William Shakespeare, Niccolò Paganini, Christopher Columbus, Jack Nicholson, Vladimir Lenin, Fyodor Dostoevsky, Vladislav Tretyak, Nikolai Ostrovsky, Nikolai Karachentsov, Galina Vishnevskaya.
No. 14 JASMINE 01.05–14.05; 03.11–11.11
Mobile and sociable, attracts attention with a free demeanor, often becomes the center of intelligent conversation. Only those closest to him know how disappointed he is with life, that he is a pessimist from birth. His fatal inconsistency is that Jasmine resolutely submits himself to duty, but his duties are depressing. Druids endowed those born under the sign of Jasmine with a sharp critical mind and insight.
Born under the sign of Jasmine: Catherine II, Niccolo Machiavelli, Heinrich Senkevich, Martin Luther King, Dwayne "The Rock" Johnson, Audrey Hepburn, Valery Gergiev, Mikhail Shemyakin, Bulat Okudzhava, Vladislav Listyev, Alina Kabaeva.
No. 15 CHESTNUT 15.05–24.05; 11/12–11/21
Very beautiful and at the same time simple. Has an innate sense of justice, always ready to protest. Because of this, he often changes activities and experiences many disappointments. Talent, speed and accuracy in actions every time help him in the search for new activities and hobbies. Druids noted courage, insight and organizational skills in the people of Chestnut.
Born under the sign of Chestnut: Voltaire, Honore de Balzac, Mikhail Lomonosov, Robert Louis Stevenson, Nicholas II, Alexander Kolchak, Igor Stechkin, Andrey Eshpay, Svetlana Svetlichnaya, Maya Plisetskaya, Lyudmila Gurchenko.
No. 16 ASH 25.05–03.06; 11/22–12/01
Outwardly, he looks strong, slender, beautiful. He likes himself and is very demanding of others. It's not easy to get along with them. Proud and selfish, but generous and wasteful. He is able to play with his own and someone else's fate, often takes risks in business, however, as the druids believed, remarkable intuition and analytical warehouse most often help out people of the Ash sign..
The following people were born under the Ash sign: Mark Twain, Charles de Gaulle, John F. Kennedy, Vincent Cassel, Ridley Scott, Mikhail Mil, Rodion Malinovsky, Viktor Pelevin, Nonna Mordyukova, Galina Polskikh, Vladimir Mashkov.
No. 17 HORNBEAM 04.06–13.06; 02.12–11.12
Beautiful, but cold. Often treats others with condescension. He loves distinctions, awards, honors, always follows the established order, is disciplined. Has a sense of responsibility and justice. Astrologers attribute to Grab a penchant for military art and diplomacy.
Born under the sign of the Hornbeam: Mary Stuart, Horace, Alfred de Musset, Walt Disney, Gianni Versace, Patricia Kaas, Afanasy Fet, Fedor Tyutchev, Zinaida Serebryakova, Vladimir Gilyarovsky, Alisa Freindlich.
No. 18 ENGIR 14.06–23.06; 12.12–20.12
The fig (or fig tree) has expressive features. In character - efficiency, purposefulness, enterprise. Differs strongly developed family feelings. An adherent of a stable home and social position, but does not tolerate hardships well and can quickly wither in adverse conditions. According to the forest horoscope, those born under this sign are credited with a practical mind, observation and impulsiveness, and abilities.
In the days of the Fig sign were born: Ludwig van Beethoven, Federico Garcia Lorca, Edvard Grieg, Madame Clicquot, Igor Stravinsky, Vladimir Putin, Natalia Varley, Georgy Sviridov, Rodion Shchedrin, Svetlana Druzhinina.
№19 OAK March 21 - spring equinox
Full of vitality, beauty and majesty. He is absolutely healthy, this is very important for him, since Oak does not tolerate illness and weakness. Proud and courageous, self-possessed and strong-willed, but he does not know how to be flexible and diplomatic, which is why efficiency and vigorous activity are not always successful. Decisive, has a practical mind and organizational skills.
Born under the sign of Oak: Johann Sebastian Bach, Alexander Vertinsky, Timothy Dalton, Gary Oldman, Ronaldinho, Sergey Lavrov, Modest Mussorgsky, Georg Ots, Leonid Utesov, Alexander Mozhaysky, Ayrton Senna.
№20 BIRCH June 24 - summer solstice
Sweet, artistic, flexible. Using the same success, does not abuse anyone's disposition. Always delicate, modest and restrained. Likes to work, perceives work creatively. Birch's ingenuity and imagination have no limits. He achieves the greatest success in the field of arts..Astrologers endow people of the Birch sign with extreme fantasy, intuition, gentleness of character.
Born under the sign of Birch: Jan Aloysius Matejko, Marie Medici, Eugene Delacroix, Anatoly Mariengof, Mikhail Zapashny, Grigory Kotovsky, Inna Lisnyanskaya, Marina Ladynina, Lionel Messi.
№21 OLIVE 09.23 - autumnal equinox
In character - balance, calmness, passionate love for light and the sun. Has a practical mindset and common sense. Druids noted its main features: extreme fidelity to ideas and friendship, analytical mind, ability to deduce.
Born under the sign of Olives: Gaius Julius Caesar Octavian August, Ray Charles, Robert Bosch, Romy Schneider, Julio Iglesias, Edward Radzinsky, Ivan Krasko.
№22 BUK 21.12–22.12 - winter solstice
Slender and handsome, very self-confident. Often lives to old age, retaining all the qualities inherent in youth. He invariably shows dexterity and resourcefulness in business, achieving success in any activity, however, sometimes he lacks imagination. According to the horoscope of the Druids, people born under the sign of Beech are most pronounced in thoughtfulness, accuracy, and organizational skills.
Born under the sign of Buk: Joseph Stalin, Vsevolod Vishnevsky, Konstantin Rokossovsky, Jane Fonda, Olga Aroseva, Emmanuel Macron, Dmitry Rogozin, Phil Donahue, Galina Petrova, Eduard Uspensky, Oleg Pogudin.
.
FSC bracelets can be worn on the wrist or around the ankles (depending on the type of bracelet) constantly or as needed, depending on the solution of certain tasks.
Women are advised to wear the FSC bracelet on their left arm/right leg, and men on their right arm/left leg. FSC bracelets can be worn alternately on both arms/legs.
It is allowed to wear different bracelets on different arms/legs at the same time in any combination. At the same time, it is recommended to monitor the body's reaction to the effect of the applied combination of FSC bracelets.
It is recommended to remove bracelets at night (especially "FITNESS").
Using FSC bracelets, you can structure water and other liquids by placing a glass of water in a closed bracelet.